Writing in 2006, before the social media age began, NYU journalism professor and critic Jay Rosen argued that digital media was transforming the audience from passive eyes to active participants.  The people formally known as the audience, as he described them, were now engaged in the development of the modern media system.
Few people would argue with his assessment today; social media is actively influencing how we consume 'traditional media.'  Major broadcasters are fighting over who controls our second screens while Twitter reports that mainstream media events, specifically sporting events, are the greatest drivers of tweet activity.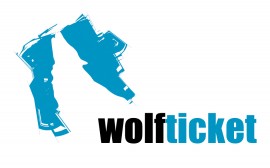 Usually we look at how social and broadcast media are interacting but how is the modern web influencing other forms of media?
Wolfticket (@wolfticketirl  | Facebook) is an innovative fourth wall (or should that be second screen) busting theatre company that aims to move theatre into the social sphere.  With audiences already highly media literate Wolfticket wants to involve them and make the audience aware of how their productions are actually produced.
The start-up was founded by Barry Reddin, Brian Cronin and Eamon McHugh, who have backgrounds in theatre production and marketing. They came together to create an interactive theatre company with social and elements of crowdsourcing built in from the very start.
History
Tell us how you came to start Wolfticket?
Barry, working with Eamon, had trained in a very organic and individual theatre experience under theatre director Cabrini Cahill and after being at the helm of the Brussels Irish Theatre Group's 2010 production of Conor McPherson's The Seafarer, he decided to return to Dublin and create a new theatre initiative inspired by the principles learned under Cabrini.
What was your inspiration behind the project?
Barry wanted to try something new in theatre and it was over several cups of coffee with Brian one evening that they came upon the idea of merging Barry's theatre experience and ideas with Brian's knowledge of Digital Marketing and Social Media to create something unique.
How it works
Wolfticket is a mix of social media and theatre – why did you decide to combine these?
Barry wanted to create a Theatre experience with a difference where the audience will be educated on the day to day production and the work involved in directing and producing a professional performance.    He wants the audience to become part of the process.  With Brian's skills we will be engaging and interacting with our audience via a blog on our website and on Facebook and Twitter where we can get feedback and bring in their ideas.
Tell us how it works/ What do you want the public to do, to get involved?
Once the play is cast we will be updating on Facebook the progress. Educating the audience on the day to day production and the work involved in directing and producing a professional performance.  During the day to day running of the production we will be using Twitter as another tool to communicate with the audience but on a more real time basis. The actor and the production team will tweet about how the rehearsals are going, whether things are going to plan or if not.   Uploading tweet pictures of the typical day to day, behind the scenes production, the hashtag #rumandvodka of the play will be used.  By using online polls and uploading photographs on Facebook the audience can vote on what the design, set and costume design will be.
How would you like to see the project evolve?
The project will hopefully evolve so that the audience will have contributed to the performance with a high percentage of them voting in the polls.  That they will have felt engaged in the process and have been educated about the behind the scenes working of a professional performance.
Future
As a start-up what are your plans for the next year?
We are hoping to build on the experiences of this year's performance and, somewhat more ambitiously, produce two performances in 2013.
What will be your greatest challenges – is Ireland ready for a social media powered theatre company?
Ireland has been very quick to embrace social media and its Barry's belief that theatre and the public are ready to engage on a more intimate level and social networking is the natural evolution of this relationship.
Is it just Irish social media users who can get involved?
Even though Wolfticket is a Dublin based initiative, we want theatre lovers from all over the world to give us their feedback and propose their ideas and to make Wolfticket a truly international and unique theatre experience.