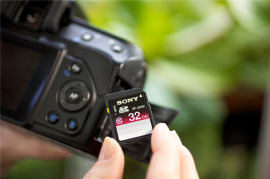 It's probably best to hold off on buying those memory cards for your new camera this Christmas. Sony are about to release their next generation of high-speed, high-capacity SD cards in January, and the specs look good (well, mostly).
Sony's new family of SD cards come in three flavours, the Expert Series, aimed at the photography industry; the Experience Series, designed for prosumers and the Essential Series for the rest of us. For the hard-core snapper look out for Sony's proposed new specifications for high-capacity compact flash.
The new flagship Expert Series sees an impressive transfer speed of 22MB per second on 8GB, 16GB or 32GB SDHD cards. With this impressive storage space and blistering speed Sony hope to lap up the emerging HD video and photo camera markets and appease users of memory-intensive continuous shooting modes. This range will also bolster the support for emerging Panorama and 3D cameras. (Sony has been hard at work this year trying to ram 3D into anything they can, their efforts, so far, have included 3D films , 3d games, 3d sports, 3D TVs and a 3D television station).
Sony says of their new memory card range,
"The new family of SD memory cards by Sony reflects ever-increasing resolution and performance of todays [sic] digital cameras and Full HD camcorders. Innovations like high-speed burst shooting, 3D and Sweep Panorama by Sony are all driving demand for higher media capacities and faster transfer rates. Reflecting this trend, Sony now offers a choice of SD cards to suit every need from casual photography to the most data-intensive imaging applications."
The prosumer Experience Series gives users a smaller but still impressive data recording speed of 15MB per second with similar capacities as its bigger brother of 2GB, 4GB, 8GB, 16GB and 32GB.
The Essential Series, the poor cousin of the lot, will be available at capacities of 2GB, 4GB and 8GB and is, interestingly, described by Sony as "an essential add-on for boosting the storage capacity of your entry-level digital camera or camcorder. Its also a convenient choice for storing and transferring digital music and gaming data." (This should probably be read as; "you need this to take more than one photo with your new camera"). Sony has not released the transfer speed for this range but its best to say that this card is more designed for storage than intensive use.
The high and low end SD cards are manufactured to work with SD/SDHC-compatible cameras, camcorders and devices from all manufacturers. No firm prices were released but expect them to set you back between €10 to over €150 in the new year.